Bombora Wave Power (Bombora), the award-winning ocean energy company, is pleased to announce it has received an investment of £3.54m from Mitsui O.S.K. Lines, Ltd (MOL) to further commercialise its mWaveTM energy generation technology.
The investment by MOL, one of the world's largest shipping companies, follows 18 months of close collaboration between the parties and is a further endorsement of Bombora's technology and the global opportunity that mWaveTM represents.
MOL's funding will be used to further the development and operational capability of Bombora's patented mWaveTM technology, including the completion of its 1.5MW mWaveTM validation project due to be installed off the coast of Pembrokeshire in the coming months.
This investment cements the strong relationship that has developed between the two companies. The expanded collaboration strengthens the marine energy project development capability of the group in Japan and the surrounding regions while building regional supply chain capacity and leveraging MOL's expertise in marine logistics.
The collaboration also increases the reach of the InSPIRE platform where mWaveTM is integrated onto floating wind platforms to create an integrated renewable energy solution.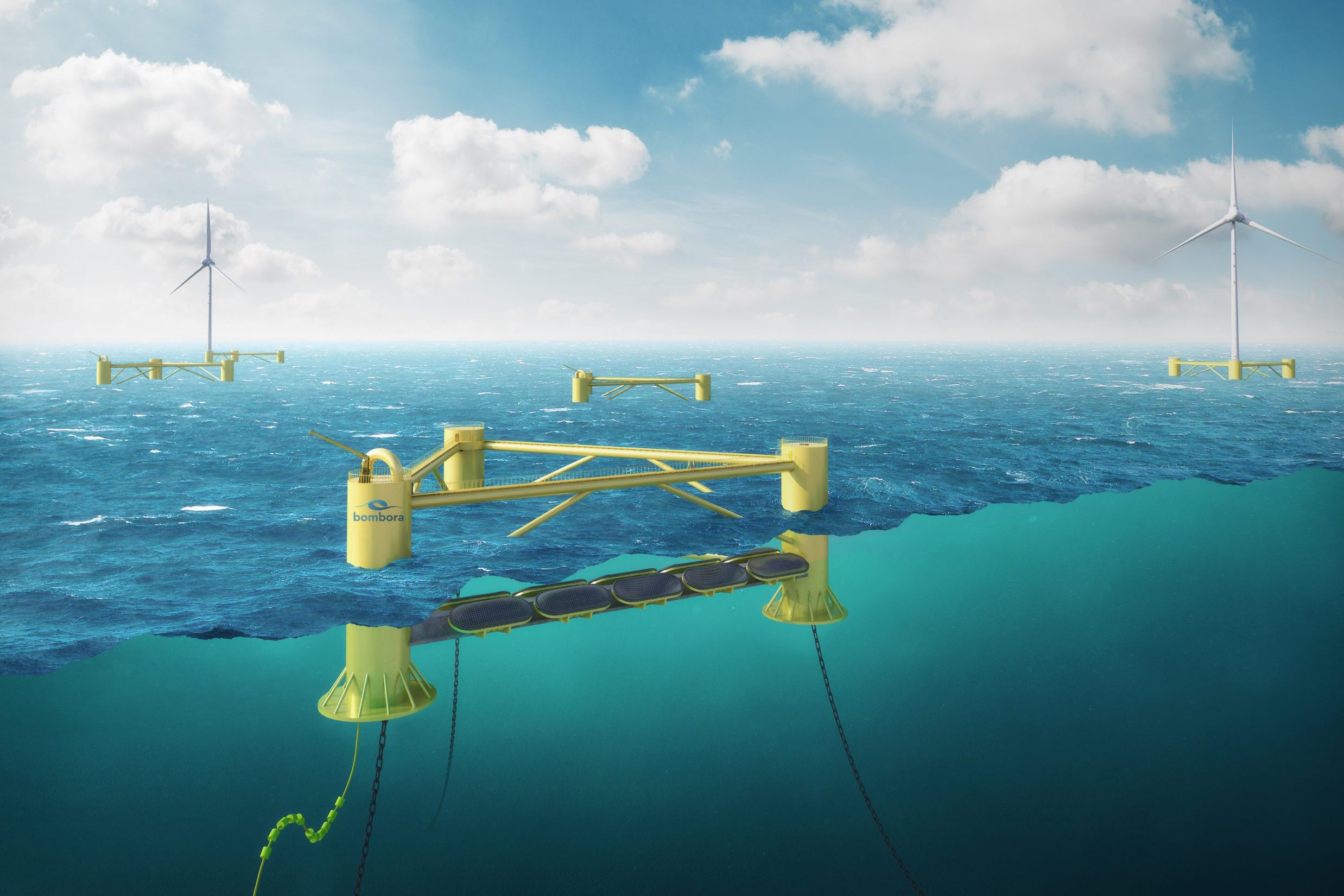 Sam Leighton, Managing Director at Bombora said "Renewable energy supply is one of the big issues we've yet to fully tackle as a society. We are confident that our technology can contribute significantly to this market by delivering consistent and predictable renewable power.
We have worked closely with MOL over the last 18 months and are delighted to strengthen our relationship through this investment. MOL bring invaluable expertise in marine operations, local industry supply chain knowledge and can provide support in project development in Japan and across the region.
The MOL investment underpins Bombora's wider capital raising initiatives to propel the company through the next phase and for delivery on commercial projects."
Yasuo Suzuki, General Manager, Corporate Marketing Division at MOL said "Bombora is a company at the forefront of innovative wave technology and we are very happy to be continuing to work with Sam and the team. We see great opportunities for mWaveTM technology to provide a significant contribution to the renewable power generation mix in Japan and Asia."
For further information about Bombora contact:
Sam Leighton
Managing Director
T: +44 1646 233140
M: +44 7981 844125 sam@bomborawave.com
About Bombora and mWave™
Founded in Perth, Western Australia in 2012, Bombora's key operations are now based in Pembroke Dock, Wales.
Bombora has developed a membrane style wave energy converter called 'mWave™' mWave is unique among wave energy converters as it simultaneously addresses the 'cost of energy' and 'ocean wave survivability' challenges whilst delivering a utility scale solution.
The mWave™ harnesses wave energy at large scale to produce environmentally friendly,consistent and cost-competitive renewable energy for commercial power generation
mWave can be installed in both nearshore and offshore sites with good wave resources to generate sustainable clean energy
Bombora is currently completing the 1.5MW mWave Pembrokeshire Demonstration Project in Wales part funded by £13.4 million European Regional Development Fund (ERDF) through the Welsh Government
Bombora is also working with global EPCI contractor TechnipFMC on the InSPIRE project to develop a floating offshore wind foundation incorporating Bombora's mWave.
Phase 1: 14MW Demonstrator – Integrated mWave (4MW) and wind turbine (10MW) on an integrated floating platform
Phase 2: 18MW Pre-Commercial – Integrated mWave (6MW) and wind turbine (12MW) on an integrated floating platform.
Bombora is progressing project opportunities in Lanzarote, Norway and Japan.
About Mitsui O.S.K. Lines, Ltd. (MOL)
Mitsui O.S.K. Lines, Ltd. (MOL) is a leading global marine transport group operating a global fleet exceeding 700 vessels, including tankers, bulkers, car carriers, ferries. MOL vessels also support offshore projects.
MOL announced "MOL Group Environmental Vision 2.1" in June 2021, and is making a concerted effort to achieve net zero GHG emissions by 2050.
To achieve it, MOL will pursue "Adoption of Clean Alternative Fuels", "Enhancement of Energy-Saving Technologies", "Boost Operating Efficiency", "Building Business Models to Enable Net Zero GHG Emissions" and "Expanding Low-Carbon and Decarbonization Projects through Use of the MOL Group's Concentrated Strengths" and reduce GHG emissions not only in its group business but also in society by promoting such renewable energy business. www.mol.co.jp/en/