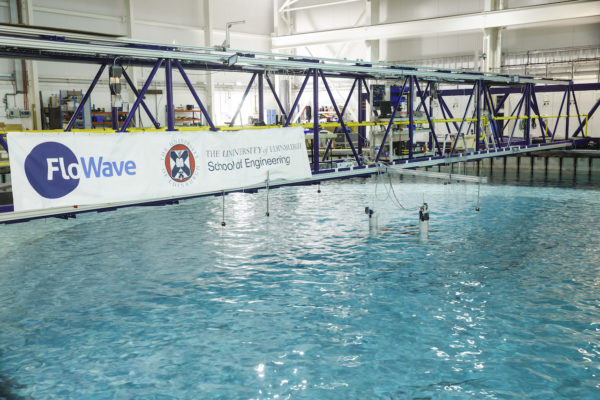 As part of the EuropeWave Programme, Bombora Wave Power (Bombora) has successfully completed tank testing of a floating foundation system suitable for the InSPIRE solution, where mWave technology is combined with a wind turbine onto a single floating offshore platform.
An adapted version of the semi-submersible INSPIRE platform, developed in partnership with TechnipFMC, underwent tank testing evaluations to confirm the system loads and dynamics at the FloWave test facility at the University of Edinburgh.
Head of Loads and Modelling at Bombora, Peter Arnold, said:
"The integrated platform was rigorously tested under a wide range of conditions, including extreme waves. Final analysis is currently underway, where the results of the wave tank test are compared with those predicted using computational modelling. This represents another significant milestone for the InSPIRE Project which began back in 2021, when we initially launched a detailed investigation into the opportunity of combining mWave onto floating offshore wind platforms. Two key activities were subsequently identified to progress the project towards the detailed platform design phase. Firstly, the tank test evaluation and secondly the large-scale performance testing of the mWave technology in our flagship Pembrokeshire Demonstration Project, due for deployment in the next few months. The tank testing assessment will provide essential optimisation data leading to a detailed design of the combined InSPIRE mWave and wind wave platform due to commence early in 2023."
The InSPIRE Project brings together Bombora's patented multi-megawatt mWave™ technology which converts wave energy into electricity, with TechnipFMC's unique technologies and experience in delivering complex integrated Engineering, Procurement, Construction and Installation (iEPCI™) projects offshore. This tank testing program follows the Pre-FEED phase of the InSPIRE Project completed earlier in 2022 based on the integration of a 4MW mWave solution with a 10MW wind turbine on a single semi-submersible floating foundation system.
Major opportunities lie in the rapidly emerging floating offshore wind market, with the world's largest wind industry body, The Global Wind Energy Council, predicting more than 16GW of floating wind turbines will be in the water by 2030.
Bombora's Chief Operating Officer Dave Rigg said the innovative InSPIRE Platform offers a series of high-level benefits.
"By integrating wave and wind we can deliver more megawatts per square mile, providing a higher yield for seabed lease areas. Due to its smooth, consistent and predictable power profile, mWave technology works as a natural partner to wind, helping to counter its intermittency and improve the overall power generation profile, ultimately bringing greater stability to the grid. In addition, this type of integrated design helps optimise project costs and ultimately Levelised Cost of Energy (LCOE).  The mWave and wind turbine share a large amount of the project infrastructure including the floating platform itself, the mooring solution along with the export cables and grid connection. The InSPIRE platform can also be maintained using the readily available service vessels catering to the existing fixed bottom wind and offshore oil and gas industries."
In recent weeks Bombora entered the final test and assembly phase of the ground-breaking £20million Pembrokeshire Demonstration Project, as it prepares to validate the world's most powerful Wave Energy Converter.
Assembly work will be completed quayside in Pembroke Dock, before loadout to the operational site at East Pickard Bay, where the mWave technology will be validated in the open ocean, advancing it to TRL 7/8 (Technology Readiness Level).
The flagship demonstration project aims to prove the reliability, performance and competitiveness of Bombora's mWave technology, while further informing the InSPIRE Project and a series of other global initiatives in Bombora's pipeline.
Bombora Managing Director Sam Leighton said:
"Working alongside our InSPIRE Project partners, our vision is to build knowledge and confidence in this new form of ground-breaking integrated offshore energy technology. We have a clear roadmap to commercialisation and achieving a highly competitive Levelised Cost of Energy (LCOE) of €60 per MWhr as the technology attains commercial scale. The successful demonstration of the Pembrokeshire Demonstration Project will significantly de-risk the technology and pave the way for large-scale commercial projects in deep waters."
Bombora was one of seven technology developers awarded contracts for the first phase of the EuropeWave project, which will ultimately see three prototype technologies tested at the European Marine Energy Centre (EMEC) in Orkney and the Biscay Marine Energy Platform (BiMEP) in Spain.
The EuropeWave project is a five-year collaborative R&D funding programme, run via a partnership between Wave Energy Scotland (WES) and the Basque Energy Agency (EVE). Match-funded by the European Commission via its Horizon2020 programme, this trans-national collaboration channels almost €20 million to procure the most promising wave energy technology solutions from developers across Europe and beyond.
For further information about Bombora visit: www.bomborawave.com, call +44 1646 233140 or email enquiries@bomborawave.com
About Bombora
Founded in Perth, Western Australia in 2012, Bombora's key operations are now based in Pembroke Dock, Wales. Bombora has developed a membrane style wave energy converter called 'mWave'. The unique solution simultaneously addresses the 'cost of energy' and 'ocean wave survivability' challenges whilst delivering a utility scale renewable energy solution. Bombora is currently completing the 1.5MW mWave Pembrokeshire Demonstration Project in Wales part funded by £13.4 million European Regional Development Fund (ERDF) administered through the Welsh Government. Bombora has engaged with global EPCI contractor TechnipFMC on the InSPIRE project to develop a floating offshore foundation solution incorporating Bombora's mWave technology with large wind turbines. Bombora has a strategic partnership with Japan's Mitsui O.S.K. Lines (MOL) to identify and deliver wave energy projects across Asia.
About mWave
Bombora's unique mWave solution harnesses wave energy at large scale to produce environmentally friendly, consistent and cost-competitive renewable energy for commercial power generation. mWave can be installed in both nearshore and offshore sites with good wave resources to generate clean and sustainable renewable energy. mWave technology features a series of air-inflated concave cell modules fitted with flexible rubber membranes and mounted to structures below the ocean's surface. The cell modules are arranged at an angle to the incoming waves to maximise energy capture. As waves pass overhead, air is squeezed out of each cell module in sequence, passing through one-way valves and into a duct system fitted with an axial turbine before being recirculated to refill each of the cell modules once the wave has passed. The flexible membrane is made from industrial grade rubber. The long-standing use of similar materials in a range of marine applications has demonstrated reliability and longevity. mWave has no external parts, other than the flexible, robust, rubber membrane, which extracts power simply without complex mechanical systems. The replaceable modular design helps streamline maintenance processes, minimising downtime and maximising power output. In addition, mWave's cell modules have a unique ability to shut down in extreme storm events. This limits the design loads reducing capital costs and improving the all-important cost of electricity.
About InSPIRE Project
InSPIRE responds to the LCOE challenge with a new solution, a cost competitive innovation that can deliver more renewable power at a lower cost to facilitate a faster journey to net zero and a prosperous blue economy. The InSPIRE project, led by TechnipFMC and Bombora, marries a wealth of experience in marine offshore engineering with the world's largest capacity wave energy technology to deliver a dual-power 'mWave + wind' market disruptive platform solution to fast-track Floating Offshore Wind deployment. The InSPIRE project paves the way for the commercial roll-out of a Series 1 platform with a 14 MW rated capacity, followed by a Series 2 with a 18MW rated capacity. Working with policy makers, energy companies, academia and the supply chain a highly competitive Levelized Cost of Energy (LCOE) of €60 per MWhr as the technology attains commercial scale. The InSPIRE project represents a significant advancement for the industry and a major step forward for a low carbon future.
About EuropeWave
EuropeWave is an innovative R&D programme for wave energy technology which has adopted a pre-commercial procurement model similar to the one pioneered by Wave Energy Scotland. It combines €20 million national, regional and EU funding and is a collaboration between Wave Energy Scotland, the Basque Energy Agency and Ocean Energy Europe. The EuropeWave project has received funding from the European Union's Horizon 2020 Research and Innovation Programme under grant agreement No 883751. After each phase of the program, evaluations will be carried out to progressively select the best of the competing solutions. The wave energy technology developers with the best-value-for-money solutions will be offered a call-off contract for the next phase, under the framework agreement. The final phase of EuropeWave will see three different technologies undergo testing in real sea conditions in 2025.